When my plane first touched down in Metro Manila, I was absolutely overwhelmed by the sheer size of this city (which is actually composed of 16 cities, namely: the City of Manila, Quezon City, Caloocan, Las Piñas, Makati, Malabon, Mandaluyong, Marikina, Muntinlupa, Navotas, Parañaque, Pasay, Pasig, San Juan, Taguig, and Valenzuela, as well as the municipality of Pateros) and is home to over 12 million people.
In a rush? Pin now and read later!
Given that I'm not much of a big city person, I was a bit wary of how the rest of my time in the Philippines would go; but it ended up becoming one of my favorite places that I visited during my 3-month trip across Southeast Asia.
Getting to Know the Philippines
Despite being an American and coming from a country that has a history with the Philippines, I discovered I knew very little about the archipelago I ended up visiting for half a month.
The Philippines has a complicated and unique history that affects every aspect of their culture and the people living there. The country was "discovered" by Ferdinand Magellan in the name of Spain (which is why their currency is the peso and the national language of Tagalog has so many similarities to Spanish), who established themselves over the Filipinos for over 300 years.
It wasn't until after the Spanish-American War in 1898 that Spain ceded the Philippines to the United States government. Fast forward a few decades and the Commonwealth of the Philippines was established in 1935, which served as a precursor to the Philippines declaring their independence in 1946.
Knowing this little bit of history and more truly enhanced my experience in the Philippines and made me appreciate every day that I spent there.
Traveling to Palawan
I was fortunate enough to visit several places in Palawan, an archipelago province that's about an hour south of Manila by plane, including Puerto Princessa, Port Barton and El Nido.
While we stayed in Puerto Princessa, we were able to visit the famous spots like the Underground River and the Iwahig Prison, both of which should definitely be on your list of things to do if you ever find yourself in Puerto Princessa.
During our 3-day visit to Port Barton, we were able to go island hopping, snorkeling, camping, kayaking and swimming. My favorite thing that we did in Port Barton though was definitely visiting a local school to play with the kiddos all morning. I was able to visit this school because the group tour I was a member of regularly partners with local schools and businesses to promote community development in the places that they visit.
Now, if you want to visit Palawan and the surrounding area for a week or so, I would recommend flying into Manila and then El Nido, which is a great place to base yourself. The small city sits right on the ocean, has plenty of accommodation options and activities, as well as lots of things to do in the immediate surrounding area. El Nido is also a prime location for getting to Puerto Princessa, Port Barton, Coron, Boracay, Cebu and Surigao.
So if you do find yourself in El Nido for a visit, here are some of my favorite things to do, places to eat, and best place to stay if you're social and rambunctious.
Where to Stay in El Nido
Spin Hostel
For accommodation during this leg of our journey, my group and I stayed at Spin Hostel – El Nido's premier hostel that's designed with travelers in mind and sits in the heart of town.
Staying at Spin has been one of the best hostel experiences I've ever had for several reasons. For one, you can't beat the convenience factor. You are within walking distance of anything you could ever need during your stay in El Nido. You are 5 minutes walking distance from convenient stores, restaurants, bars and island shopping.
Convenience aside, the staff at El Nido our ridiculously fun and inviting. They have different scheduled activities every single night (including beer pong, barbecue, karaoke, margarita and movie night!), designed to get you out of your room and help you make some new friends. Not to mention they have a weekly pub crawl!
For the accommodations themselves, the rooms at Spin Hostel are very nice, spacious, and come with full sized beds, air conditioning, large security lockers (you can get a padlock at the front desk if you don't have one), personal bed light, shelves and outlets. Depending on your needs and preferences, you can also choose between private rooms, private bunks, mixed and all-female dorms – so there's something for everybody!
Facilities and amenities aside, if you're going to visit El Nido for any length of time, I definitely recommend staying at Spin Hostel. The price is incredibly fair, but the overall experience that the staff creates makes your entire visit much better than if you stayed anywhere else.

What to do in el nido
1. Island Hopping
Don't quote me on this, but island hopping is probably the most popular activity in El Nido, especially for visitors. If you just take a walk through El Nido, you'll see no less than 10 different tour companies with island hopping options.
Traditionally, there are four different tours:
Each of the tours takes you on a different journey to explore different islands around El Nido, but each one you go to hosts beautiful sandy beaches, crystal clear water and coral reefs that are teeming with life.
Costs, itineraries and length of time will vary depending on which tour you sign up for, but each of them is incredibly fun and worth the time and money.
Insider tip: tours A and C are consistently the most popular; so if you're not sure which tour to sign up for, give one of those a shot!
2. Kayaking
Grabbing a kayak for the day is one of the best way to explore El Nido. The water is crystal clear and full of color reefs, corals and fish.
You can rent your kayaks at the popular Boutique and Art Cafe (also doubles as a great restaurant) for either a full day or a half day. A full day costs 1000 pesos.
Make sure you grab some food and drinks to bring with you for either a nice lunch on an island or to have with as you watch the sun go down.
Fair warning: the weather in El Nido can be a bit unpredictable, so be on the lookout for rain!
3. Las Cabanas Beach Zipline
Doing the Las Cabanas Beach Zipline was one of the best activities I signed up for during my trip to El Nido! The view is incredible and the adrenaline rush is spot on.
To get to the zipline itself, you will have to complete a bit of a hike, but it's all assisted with a staircase and rail so it's not too bad, if you don't mind getting sweaty!
Once you get to the zipline, you'll have to sign a waiver and then pay a fee, which will vary depending on if you want to do the zipline in a seated position or the crowd favorite "Superman" position. If you choose to be seated upright, it will cost 500 pesos, and 750 pesos if you do it Superman style (this one has my vote!).
With the paperwork out of the way, the zipline team will get you suited up with harnesses and helmets, strap you in, and launch you off the platform into open space.
The zipline itself takes you from a high vantage point from the mainland, over a steep slope covered in trees and across a patch of ocean to a completely different island. It is an incredible view so if you can take photos I definitely recommend it; unless you're like me and have trouble hanging onto important things like phones and GoPros.
Once you've completed the zipline, there is a semi-treacherous descent down a steep staircase. After you're back on the beach, you'll actually walk across a narrow sandbar to get back to the mainland, which will completely place you in a shopping and restaurant district where you can hang out for a few hours. I definitely recommend posting up at Beach Shack to enjoy a beverage or two. Their bar comes complete with giant bean bag chairs on the beach and swings!
4. Ferrata Canopy Walk
Doing the famous Canopy Walk in El Nido is one of the best ways to view the city from above without having to do the more infamous climb at Taraw Cliff (read further down to see if climbing Taraw Cliff is something you want to do).
The climb itself takes about 15 minutes each way, participants receive a harness and a helmet to complete the walk with, as well as a guide to help them maneuver up the staircases and suspension bridge. You will be asked to sign a waiver prior to getting up on the walk, and there is a fee of roughly 650 pesos.
You can access the canopy walk by going to Rizal Street in El Nido.
5. Philippines Experience
Spending the day with our friends Mark and Shen, owners of the Philippine Experience, was easily one of my Top 3 favorite activities that we did in El Nido.
The Philippines Experience is a very small, local company that takes their guests on a unique experience that's well off the typical tourist path. We enjoyed a short trek to a small village and along the way learned about the different flora and fauna that's local to the El Nido area. We also practiced what's called Arnis (or traditional Filipino stick fighting), had a mini cooking class where we made our own coconut milk and chicken adobo, learned how to climb a coconut tree, practiced our dance skills, and played games that locals play every day.
The Experience goes from roughly 9 am to 2:30 pm, costs 1800 peso per person, and must be booked in advance. I highly recommend taking a day to do this activity. It's educational, helps you understand the community you're staying with and gives you something unique and fun to do that most other people won't be able to experience. 10/10!
6. Scuba Diving
With regards to scuba diving in the Philippines, I had heard from many people that Coron is the best place to dive; and while I'm sure that's true, I didn't have enough time during my stay to set out on a 2 or 3 day excursion to Coron before I had to head back to Manila. That being said, I was blown away by the diving experience I had in the areas surrounding El Nido. The water was crystal clear, a surreal blue color, and full of so many different types of corals and fish that I could've stayed down there for hours.
When it came to preparing for my day of scuba diving in El Nido, I knew I had several dive shops to choose from, but I chose to work with Deep (Dive, Explore, Experience, Palawan) Blue Dive Seafari along Hama Street for several reasons.
I heard about the shop from several friends I made at the hostel, all of who raved about the quality of equipment, expertise of the dive master and guides, and the overall value of the experience. For 4,300 pesos (equivalent of $140 USD), you will visit three different dive sites, be outfitted with all of the equipment you need (wet suit and computers were even included), enjoy a delicious lunch that's cooked right there on the boat, and have all of your tanks and BCDs prepared for you before each dive. All you have to do is be at the shop by 7:45 (sign up the day before), come prepared to experience some beautiful dives and relax on the boat!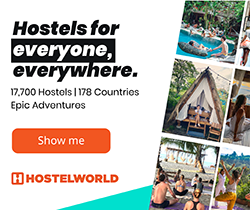 7. Go Dancing at Puka Bar
Pukka Bar is pretty unique compared to other places in El Nido. It doubles as a restaurant and bar/night club. Known best for their "reggae vibes," Pukka Bar is the best (and possibly only) place to experience a live DJ and full on dance floor.
My advice? Go enjoy one of the many happy hours in El Nido before coming here, as the night crowd doesn't really pick up until 11 PM or so. But if you're coming from fresh off a Buy 1 Get 1 Free deal, you'll be ready to dance for sure!
8. Watch the Sunset from Scape Skydeck
If you're looking to enjoy a nice evening with friends or have a "treat yo self" kind of night, I highly recommend going to Scape Skydeck. Not only can you enjoy their great Happy Hour deal (again, "Buy 1 Get 1 Free"), you also get a killer view of the city where it meets the harbor and a killer food menu. They literally have it all; I'm talking appetizers, salads, pasta, pizza, soups, specialty courses like pan-seared salmon, and desserts.
This place is ideal for either a date night or a fun night of dinner and drinks with friends. Between the food, drinks and view, it makes for a pretty unforgettable experience.
9. Climb Taraw Cliff
Oh man, oh man, was this adventure one for the books. Out of all the excursions, train wrecks and shenanigans I took part in during my trip to Palawan, this is easily the most dangerous. Climbing Taraw Cliff is something else. It is not for the faint of heart, requires a good degree of strength, agility and endurance, as well as the unique ability to shut down panic the minute it starts to rear it's ugly head.
When my friends asked if I wanted to go on a short hike that morning over breakfast, I said yes without hesitation. Who doesn't love hiking? And goodness knows I need to work off some of the mojitos I've been drinking. But the minute our guides handed us each a pair of gloves I knew we were way in over our heads. To be fair, I didn't know the name of our so called "hike;" but if I had heard the words "Taraw Cliff" I would've known immediately that something was up. Turns out our little hike was a 755 foot (230 meters) cliff of sheer limestone; and the fact that it can be climbed in roughly 45 minutes tells me that we were going to reach the top by going straight up – no casual meandering up a gentle slope or foot trail.
So with a pair of gloves, no helmets, harnesses or rope, our little rag tag group of 7 set off. Although going up was the easy part, balancing yourself on shards of coral and volcanic rock that shoot straight up into the air like daggers and maintaining your poor balance by desperately clinging to the razor sharp walls around you is no casual task. Five minutes into the hike I am dripping sweat and steadily accruing a significant number of cuts from every time I brush into the rocks around me. No lie, two-thirds of the way to the top I almost quit. I know what it's like to fall on cliffs and once I hit that panic mode that's when you make mistakes and get hurt.
Of course none of that mattered because my friends would never let me hear the end of it unless I got to the top with them. And after about 15 more minutes of climbing we do reach the summit, and yes – it was worth it. The view was incredible and even more enjoyable knowing that a lot of people don't make it to the top.
All that being said, if you're going to climb Taraw Cliff you need to hire a guide to show you the way. If you don't hire a guide, the best that can happen to you is that you get lost. The worst is that you get seriously injured or killed (there have been a number of the fatalities over the years; again, not for the faint of heart). Also, bring plenty of water, bug spray (there was a dengue outbreak during my trip) and some athletic shoes; you CANNOT do this in shoes that don't have good grip or ankle support.
10. Rent a Scooter & Go Exploring
I had never driven a moped before my trip to the Philippines and boy, what an experience that was! What seemed like a simple trip to Nacpan Beach turned into quite the adventure. I laughed, I cried, I grew as a person. But really though, renting a scooter for the day was one of my favorite activities. You can rent a motorbike or scooter at Fox Agimat on M. Quezon Street for about 500 pesos (plus gas) that day. I suggest going to Nacpan Beach or somewhere similar. Do keep in mind that some roads are not paved, and if it's rained recently, things can get pretty muddy real quick (I learned that I'm good a good road driver, but not so much at off-roading). Just make sure you wear a helmet and have travel insurance!
Where to Eat & DRink in el nido
1. Trattoria Altrov'é
I went to Trattoria Altrov'é on two separate occasions during my stay in El Nido and each time was delicious! The restaurant sits on the second story with the wood-fired oven on the bottom floor. They have a great selection of wine, beer, and cocktails to accompany their robust dinner menu. Of the three of four pizzas that I got to try, their Margherita was my favorite (don't hate the classic!); but I also got to try some great appetizers like sautéed shrimp on top of a balsamic vinaigrette salad and fire roasted tomatoes covered with mozzarella.
Everything was amazing and I definitely recommend going there with a group of friends so you can share different pizzas together.
2. Big Bad Thai
Much like Trattoria Altrov'é, I went to Big Bad Thai more than once while I visited El Nido. They had a variety of soups, noodle-based dishes and curries to choose from, as well as many different vegetarian options. My favorite is definitely the vegetarian green curry, but the tofu pad thai was also bomb.
They also have quite a few drinks that you can choose from, both alcoholic and non-alcoholic. Come hungry because they definitely don't skimp out on the food!
3. Taverna Agape
I really enjoyed this cozy Greek restaurant that sits ride on the beach of El Nido. Taverna Agape has a nice assortment of appetizers, entrees and even desserts for you to choose from. The environment is very relaxed, and makes for a great place to relax with a group of friends.
My personal favorite was the orzo pasta salad and hummus platter with freshly made pita bread. I also stole a few bites of my friend's moussaka, which was ridiculously delicious and filling. I also recommend grabbing a cocktail here, including one of the best basil mojitos I've ever had. Cheers!
4. Happiness
I love this restaurant (which also doubles as a hostel)! Happiness is easily my favorite spot for dinner. Not only does it have the coolest environment of all the restaurants I tried (think beach side treehouse complete with swings that line the bar; no bar stools here!), the Mediterranean food here is without rival!
They serve healthy breakfast, lunch and dinner, and have a full bar! You can't go wrong with any of the different hummus bowls they have (I recommend the one with baba ghanoush, eggplant, tahini and slices of boiled egg on top).
5. Art Cafe
Art Cafe is a busy little place. It serves as a store, kayak rental and restaurant, so you can really plan a lot of things around this one place. As for a restaurant though, I gotta give it to them for having a super extensive menu for food and drinks, as well as a great view. The restaurant is located on the second story with a balcony that looks out onto El Nido's harbor, making it a great place to enjoy a beer or sunset dinner.
My vote is to order a pizza (the salami with tomatoes was to die for) but my friends would swear by their pasta selection (can't go wrong with their pesto pasta and spaghetti bolognese).
6. Holy Smoke
You won't find Holy Smoke on Google Maps on Facebook; this hole-in-the-wall is just that, but one of the most popular places to grab food in El Nido. They have some of the best Mediterranean wraps in the city, with chicken, pork, beef and falafel to choose from (falafel is my favorite). You can also choose from four different sauces, making it fun to mix up your meal every time you go (I went no less than 5 times in the span of a week; no shame).
Go easy on the chili sauce, though; they don't mess around! Oh, and let's not forget. They're open 24 hours a day! So for the people who switch back and forth between drunk food and hangover food, this place has got you covered.
7. Cafe Athena
It's hard to miss Cafe Athena on your trip to El Nido, and I mean that literally. For one, the entire establishment is blue and white so visually it's hard to miss but secondly because the food is great, the vibe is chill and the drinks are delicious. The two-story cafe is situated right on the harbor of El Nido, giving you one of the best uninterrupted views in the city as well as a nice breeze to enjoy when it's hot outside (which is all the time).
On the particular day that I visited Cafe Athena, I had one of their hummus bowls, a calamansi juice (a tiny lime that's local to the Philippines), and one of their super delicious cocktails (P.S. their Happy Hour is "Buy 1 get 1 Free" and goes from 2 til 10 PM!). Come hungry because they have plenty of appetizers, entrees and desserts to choose from!
8. Gusto Gelato
Let me start out by saying that I am not a big ice cream person (that would be my father; good luck if you're standing between him and a carton of vanilla ice cream), but I visited this Gusto Gelato three different times while I was in El Nido. For one, they didn't just offer gelato, they also had coffee, shakes, fresh juice, paninis, crepes (go for nutella and peanut butter), and waffles!
Not to mention, they change out their flavors on a regular basis, which I think is good psychology because it makes you want to visit them more and see what new flavors they're offering. My personal favorites were the hazelnut and White Chocolate Stattiacio!
9. Balai Kubo
I don't know about other people but I typically prefer eating lighter lunches, especially when the weather's hot and humid like it is in El Nido. I don't get as sleepy in the afternoon and it gives me better energy to get through the rest of my day. If that's you, then Balai Kubo is your place! Like other places in El Nido, Balai Kubo doesn't show up on Google Maps or social media; so you'll have to go exploring to find this one. (Hint: it's on M. Quezon St)
This tiny little cafe has room for its kitchen and not much else. The entire establishment is open to the street, hosts three wooden countertops that you can sit at – perfect for people watching! As far as their menu, they've got a variety of smoothie bowls, rice bowls, toasts, coffee, homemade kombucha, smoothies, and cold-pressed juices that are all made with local ingredients. You can even buy homemade jams and juices to take home with you!
My Favorite Place in the Philippines
During my 15-day trip to the Philippines I visited several different places, including Manila, Puerto Princessa, Port Barton and finally El Nido. Although I don't hold any positive sentiments towards Manila (too loud and too crowded for me personally) each of the other locations I spent time at were beautiful and had lots of fun things to do.
Puerto Princessa had the famous Underground River and Iwahig Prison, and Port Barton had small town beach vibes, island hopping, and scuba diving – all things I love. If I had to choose once place to visit in Palawan though, it would be El Nido.
The town is quiet enough that you can actually get off the grid, but there's lots of different activities that you can enjoy during your time there so that you stay busy. It's also in a prime location for reaching other fun places in Palawan via ferry or plane, including Coron, Cebu, Sicogon Island, and Bohol.
If you find yourself having only 2 or 3 weeks to visit the Philippines and you're a fan of beaches, jungles, and island hopping, I would definitely go to Palawan, and consider making El Nido your base!
If you want to visit the Philippines for 2 or 3 weeks but are daunted by how to spend your time or get around the islands, I highly recommend booking with a small group tour company who can handle the logistics and use their expertise to create absolutely incredible itineraries.
My vote is for Wanderlands Travel, who runs an amazing, twelve day trip through the Philippines. Their trip includes stops in Manila, Boracay, Cebu, and El Nido – with each day full of unforgettable, action-packed adventures. If visiting the Philippines has always been on your Bucket List, check out Wanderlands Travel Philippines adventure!
Enjoy this itinerary for El Nido? Then pin it and save it for later!