Compared to the many countries of Southeast Asia, the Philippines stand out for several reasons. For one, the seven thousand islands are full of a rich culture and a complex history. Secondly, the Philippines are home to some of the kindest and most unique people you'll come across. Not to mention, this gem that's spread across the North Pacific Ocean – with its limestone cliffs, coral reefs and dense jungles – is the perfect place to hang out if you love both adventure and relaxing.
During my first 3-month trip to Southeast Asia, I had my sights set on places like Thailand and Malaysia. And while I love both of those places, I was completely unprepared for what I found in the Philippines and it was without a doubt my favorite place that I visited.
In a rush? Pin now and read later!
Not only is there lots to do, see and eat, but also traveling across the Philippines is in itself such a unique experience compared to other countries that I've spent a lot of time in.
So, without further ado, let's jump into it: the best places in the Philippines to visit! For this itinerary, I'm starting things off in the North and then dropping down South to all of the islands, covering all the great cities and villages that should be on your list of places to visit when you travel to the Philippines.
10 Awesome Places to Visit in the Philippines
1. Mt. Pulag
Tucked away in the northern island of Luzon – the largest and most populated island in the Philippines – lies Mt. Pulag. This summit is the highest mountain in Luzon, and one of the most popular places for avid hikers and outdoor lovers to see when they visit the Philippines. While most people think of warm, sultry beaches and turquoise waters when someone mentions the Philippines – and don't get me wrong, Luzon has all of those things, too – Mt. Pulag is a much different environment.
What draws so many people year after year to Mt. Pulag is the famous "Sea of Clouds." And given that it tops out at a whopping 2,922 meters above sea level, there's no doubt that a hike up Mt. Pulag will reward you with one of the best views. Some people get shut down by rain, but if you time your hike correctly and coordinate it with the seasons, you can get one of the best sunrises in your life and enjoy a hiking experience that you can't find anywhere else. If you're not daunted by hiking or the cold, this is a great place to start your trip to the Philippines!
2. Sagada
If you're wanting to really get the full Filipino experience, then you definitely need to include Sagada on your itinerary. We all love beaches and swimming, but you would absolutely be robbing yourself if you didn't make time for this city that's nestled into the lush, green mountains.
What really makes Sagada stand out is the cool air that's rough to find in other parts of the Philippines, the locally made coffee that you might kill your mates for, and the picturesque scenery that's full of idyllic rice terraces, waterfalls, and intricate cave systems. Not to mention the rich indigenous culture that's spread all across Sagada. Not only have you got the iconic hanging coffins and infamous civet coffee, but the locals who live in Sagada are some of the nicest people you'll meet anywhere, and not just in the Philippines.
3. Puerto Princesa
If you're planning a trip to the Philippines, odds are you have your heart set on visiting the many beautiful islands, with the most prominent one being Palawan. So, a great place to start your island adventures is in the beautiful city of Puerto Princesa – capital of Palawan. Puerto Princesa has been drawing travelers for many years because of its many beautiful beaches and reefs. But there's much more to Puerto Princesa than just swimming and sun bathing.
Without question, one of the biggest draws to Puerto Princesa is the famous Underground River, heralded as one of the new Seven Wonders of the World. The Puerto Princesa Subterranean River National Park is located in the Ssaint Paul Mountain Range and was listed as a UNESCO World Heritage Site in 1999. If your trip to Puerto Princesa doesn't include a trip to the Underground River, you're missing out on one of the most unique sights in the world. In addition to the Underground River, my other favorite part about visiting Puerto Princesa was spending a day at the Iwahig Prison and Penal Farm. Famously known as "the Prison without Walls," Iwahig Prison sits on an area of 22 acres and is home to a smaller group of prisoners who essentially govern themselves, grow their own food, and talk about their experiences with people who come to visit them. No question here, this was one of the most unforgettable experiences I had not just in the Philippines, but out of all the places I visited over the course of 3 months in Southeast Asia.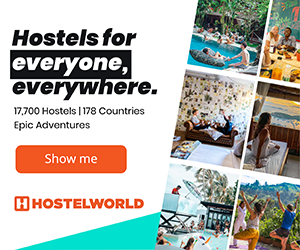 4. Port Barton
Compared to other places that make it onto peoples' itineraries when they visit the Philippines, odds are Port Barton doesn't make the cut. Which is a shame, because this quaint fishing village is the epitome of "getting off the grid," and while it's clear that locals are preparing for the day that Port Barton becomes the next big backpacker haven in the Philippines, for now this sleepy spot in Palawan is keeping its laidback charm alive.
Free of big chains and large hotels, Port Barton was where I learned how to define my "island lifestyle." During my time in Port Barton, I alternated between swimming, reading my book in a hammock, taking naps on the beach, and taking paddle board trips at sunset. Relaxation aside, Port Barton also has activities like island hopping, hiking, waterfall chasing, snorkeling, and scuba diving. Settle in for adventure and relaxation if Port Barton's on your list of places to visit in the Philippines!
5. El Nido
If the Philippines was my favorite country to visit during my first 3-month trip to Southeast Asia, El Nido was probably my favorite city to stay in. I mean this place had it all. I'm talking everything from island hopping tours to kayaking adventures, ziplining, hiking, great food and awesome beaches. I ended up staying in El Nido for 10 whole days – I didn't want to leave!
---
Interested in learning more about El Nido? Check out my post about 19 Things To Do in El Nido!
---
What I probably like the most about El Nido, though, is the variety of things you can do. For me, I'm a classic adventurer. I want to do all the hiking, ziplining, scuba diving, and death-defying cliff climbing. But El Nido's also got a great night life, with fun clubs like Puka Bar or rooftop bars like Scape Skydeck. There are cool places to shop if you're into that, and endless beach cafes and bar to spend an afternoon at. And if you have a free afternoon, I definitely suggest renting a scooter and taking a drive through the surrounding countryside. The lush hills and mountains are a sight to see, especially with your own set of wheels.
6. Coron
Just a short ferry ride from El Nido lies another island paradise in Palawan – the city of Coron that's best known for its chill vibes, beautiful scenery, and endless outdoor adventures. While people associate places with Siargao for its topnotch surfing, Coron is definitely known for having some of the best scuba diving that you can find in Southeast Asia, if not the world. In fact, Coron is one of the ideal places you can pick up your open Water Certification if you've never learned how to scuba dive. And even if scuba diving isn't your thing, there's also plenty of snorkeling and swimming you can do in Coron's famous waters.
Scuba diving and snorkeling aside, Coron's got other great things to do, like hiking to the top of Mount Tapayas (ideally at sunset or sunrise), relaxing in the local hot springs, or grabbing a well-deserved drink on the beach after all that adventuring.
7. Boracay
Lying 350 kilometers south of Manila lies the famous island paradise of Boracay. With gorgeous beaches, beautiful cliffs, and unique wildlife, it's easy to see why this is one of the most popular island destinations in the Visayas. And whether you're looking for an adventure, romantic getaway, or chill vibes, Boracay fits the bill!
Obviously, the best things you can do in Boracay include visiting the sleepy beaches like Bulabog Beach and playing on the many cliffs that line the island, like Ariel's Point. But some of the more unique things you can do on the island include checking out the famous bat caves on the island, signing up for the Island Nature Tour, or even taking part in the Philippine mermaid Swimming Academy! Oh, and if you have time, check out Zorb Park (you'll thank us later).
---
Planning a trip to the Philippines or Southeast Asia? Check out my Packing List!
---
8. Cebu
When it comes to islands in the Philippines, Cebu is one of the most popular and visited by travelers. And because it has an international airport, many people start their trip to the Philippines right in Cebu. In truth, there are so many things to do on Cebu, and unfortunately not enough people spend the time to actually explore this city and the surrounding areas. But with its beautiful jungles, waterfalls, turquoise pools, and breathtaking mountain views, you definitely need to take your time going through Cebu.
Some of the best things to do are definitely outside, and include activities like visiting Inambakan and Kawasan Falls, hiking Osmena Peak, taking a dip in the Mainit Hot Spring in Malabuyoc, and checking out Sumilon Island near Oslob. There are lots of other things you can do in Cebu, like swimming with whale sharks and snorkeling with turtles. If exploring the outdoors is your thing, then Cebu definitely needs to be on your list of places to visit in the Philippines!

9. Siargao
Another breath-taking place to visit in the Philippines is the paradise island of Siargao. Affectionately known as "the Surfing Capital" of the Philippines, Siargao has earned a reputation for its beautiful beaches, picture perfect jungles, and stellar waves. Most people visit Siargao specifically to check out the surfing scene. Whether it's to catch a wave for the first time or test your skills out as a seasoned surfer, Siargao's surfing conditions are top notch.
Best known as being "the Surfing Capitol" of the Philippines, Siargao has earned a well-deserved reputation for its gorgeous beaches, dense jungles, and picture-perfect waves. This breathtaking island paradise primarily draws travelers who are looking to check out the world-class surfing. Whether it's to learn how to surf or test your seasoned skills out on the waves, Siargao is the quintessential place to surf in the Philippines.
But the fun at Siargao doesn't start and end with surfing. This tiny island is also famous for its adventures like island hopping, snorkeling and hiking. You can also check out the beautiful Maasin Secret River for a day of swimming, river boat rides, and even rope swings from coconut trees. There's also the famous Magpupungko Rock Pools along the coast line, where you can check out the local marine life and coral populations. And at the end of the day, Siargao's also known for its nightlife, so you can wrap up your trip to paradise with good food and an epic party.
10. Bohol
I don't speak Tagalog (the indigenous language in the Philippines), but I imagine "Bohol" is synonymous with "beautiful nature." If Bohol's known for anything, it's definitely the endless waterfalls, white beaches, animal life, and much more. If you've ever seen photos of the peculiar Chocolate Hills, then you were looking at Bohol. Not only is this island paradise known for this unique geological oddity, but it's also home to other natural phenomena that are just waiting to be explored.
In addition to the Chocolate Hills, you can also explore places like the beautiful Loboc River, the Cabagnow Cave Pool and Springs, as well as the Umatad and Pahangog waterfalls. You can enjoy some truly awesome swimming, hiking, and sight-seeing in all of these places. And if you're an animal lover, then you can also observe some of the most famous primates in Southeast Asia – tarsiers! Odds are you've seen photos of these little guys with their trademark eyes (hint: they're bigger than both their brain and their stomach!); not to mention their heads can rotate up to 360 degrees!
If you've ever thought about visiting the Philippines, I hope this list convinces you to book a flight to Cebu or Manila this very second! It's one of the most beautiful places in the world, unique in every way, and a great opportunity to get off the beaten path and explore.
Ready to plan your trip to the Philippines? Then use this itinerary to guide you; pin now and read it later!