The first proper solo trip I took abroad was a trek across the Philippines. I don't know what it is, but for some reason that region encompassed everything I wanted out of a trip – inexpensive, full of adventure, rich in culture, and packed with awesome people.
The longest I had ever traveled out of the country was for 2 weeks, and I didn't know anything about international travel – putting together itineraries, finding transportation, getting a SIM card, anything! And I definitely didn't know how to pack for a trip abroad. Honestly, I definitely packed way too for much my first trip abroad. And my second. And my third.
Either way, time is the best teacher and eventually I learned how to actually pack for a proper trip abroad. That being said, here's the perfect packing list to get you through a trip in the Philippines!
In a rush? Pin now and read later!
Let's get into it.
30 Essential Items You Need in the Philippines
1. Backpack
Arguably the most important piece of equipment that you'll bring with you on your travels is your backpack. You'll carry it for countless hours and live out of it for who knows how long. Not only do you want it to hold everything you'll need, but also want it to fit comfortably on your frame for long periods of time. So when it comes to picking backpacks, Osprey's Kyte 46L for Women and the Kestrel 48L for Men get my votes. As a brand, I can't recommend Osprey enough, but there are tons of reasons why these backpacks are perfect for long-term travel. The frame is completely adjustable to your torso, guaranteeing that you'll get the perfect fit. The bag stretches and compresses based on what you pack, comes with plenty of compartments, and external loops so you can maximize your packing space. And lastly, the mesh back panel is super breathable, which I really came to appreciate after spending so much time in the Philippines.

A reliable daypack is an essential piece of gear for any traveler, and I haven't found a better daypack than Zomake's Ultra Lightweight Backpack. This thing brags on itself as being ultra-light, ultra-durable, and ultra-awesome. Not only is it coated in water proofing and tear resistant nylon that can stand up to the roughest and toughest adventures, but it also folds up into a sandwich-sized pocket that you can easily stuff into or clip to your primary backpack. Plus, it comes in some sick colors!
The key to not losing your mind on a trip that is going to last several weeks or months is staying organized. This applies to all things – like itineraries, currencies, tech, etc. – but it's especially true for your packing situation. You're going to live out of a backpack, and ideally a small one, for an extended period of time. So, the key to staying organized is a set of lightweight, mesh packing cubes. Not only will a reliable set of packing cubes keep you organized and streamlined so you can pack efficiently, but their durable and functional design will actually speed up an otherwise tedious process.
During a long-term trip, you will spend all of your time living on limited space. That means you can't afford to take anything bulky, which is tricky when it comes to towels. I tried taking a typical beach towel with me on my first trip abroad, and not only did it take up way too much room, but it also got disgusting after a week. What you need is a quick-drying towel that is super absorbent, multifunctional, lightweight, and packs up small. I like this OlimipiaFit's Microfiber Travel Towel Set because it comes in two different sizes and includes both a carrying bag and clip so that you can stay dry, maximize your space, and keep your towel from getting gross!
I don't know what it is about traveling, but between late nights, loud hostels, and day-long adventures, it seems like you never get enough sleep. Either way, like the many travelers that have come before me, I became an expert at falling asleep in the most random places. Usually this meant I was in some sort of heinous sitting position with no room to stretch out or get comfortable. It goes without saying but having a comfortable travel pillow in your pack is essential. My favorite is the MLVOC Travel Pillow because it's comfortable, machine washable, made with breathable fabric, packs into a compressible bag, and includes a kit with an eye mask and ear plugs!
It's important to note that while I do love staying in hostels while I travel, not all hostels are created equal, and eventually you will end up in a bed that looks questionable at best. When that time comes, you are going to want a barrier between you and the actual bed, which is why it's essential to bring a sleeping bag liner with you. Not only that, it also gives you another layer to keep warm if you're in a cooler climate or have roommates that like to blast the air-con all night!
When it comes to packing up your toiletries, you want a bag that can hold all of your personal items and not take up too much room in your pack. This foldable toiletry bag by Osprey fits the bill perfectly. It has 4 separate, zippered compartments, 2 mesh pockets, and 1 water resistant compartment. Given the tendency for bottles to either explode or leak in your bag, having these separate waterproof and breathable sections is key. And with the hanging and cinching technology, you can hang it from virtually anywhere and then roll it up as small as possible to keep your packing streamlined.
Without fail, the word "multipurpose" is music to a traveler's ears, and this is especially true when we need to live out of a backpack for months at a time and have absolutely no space to waste. So, when you're packing your clothes for your trip, you definitely want to include something that can work as a bandana, sun guard, face mask, hood, headband, or even hair tie. And that's where BUFF comes in. When I was in the Philippines during the dry season, I definitely could've used this to ward off all the dust that was kicked up every time I climbed into a tuktuk or the back of a truck. This thing is soft, warm, light weight, and wind-resistant. And because it's made with Merino wool, it doesn't hold onto odors like other types of fabric.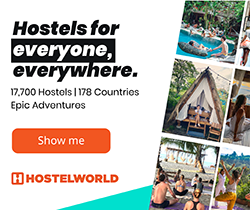 9. Rain Jacket
If you're going to the Philippines during rainy season (which is arguably one of the best times to go), a rain jacket is essential. And I used to think that any old rain jacket would do the trick, which could not be further from the truth. Before I got my current rain jacket from Marmot, I went through multiple rain jackets each year. They either tore, failed to keep out the wet, or were just a nightmare to wear because I was sweating so much. That's why after I got my Marmot PreCip jacket, I vowed to never go back. This thing doesn't just keep me dry, it keeps me cool with its breathable vent technology. Get your Marmot PreCip for Men and PreCip for Women here!
Out of all the gear a traveler can bring with them, a waterproof dry bag could easily be considered the most valuable. I've known plenty of travelers who have lost phones, tablets, eReaders, and other expensive pieces of tech to a sudden rainstorm or a kayaking trip gone wrong. Earthpak's Dry Bag comes in a variety of sizes, including 10, 20, 30, 40 and 55 liters. You can also use the strap system to convert it from a backpack to a shoulder bag, all the while keeping your gear safe and dry!
As travelers, we're constantly on our feet. Whether it's hiking a mountain, exploring a new city, or staying out all hours for a pub crawl, we are moving. And for a long-term trip, you don't want to bring tons of shoes with you. Those can get heavy pretty quickly and take up a lot of room in your pack. So, when it comes to picking a travel shoe that checks all the boxes and looks great, too – my vote is for a pair of Chacos technical sandals. These bad boys will not only get you from Point A to Point B, but they can also take a beating and look great at the same time. Chacos has several style options, but my favorite is the Z2 Classic Athletic Sandal. Plus, they have options for men and women!
If you're going to the Philippines, protecting your skin against the sun is essential, but one thing I became much more conscious of while traveling is choosing products that don't just protect me, but also protect the environment. The majority of sunscreens on the market contain chemicals that are actually harmful for the environment. So, if you take a dip in the ocean while wearing one of these products, it's going to come off in the ocean. That's why I use this mineral sunscreen from Sky Organics. It's all natural, provides reliable protection from UVA and UVB rays, and doesn't contain any ingredients that can hurt the environment.
There's no question that a headlamp is super useful if you're camping or hiking. But I would argue that a reliable headlamp is just as useful for traveling. For one, when you need to move around your dorm in the middle of the night, having a headlamp that you can adjust is useful to have on hand so that you don't wake up your fellow bunkmates. It's also essential if you have to pack up your bag in the middle of the night to catch an early flight to your next destination (trust me, you do not want to be that person in the hostel waking up your roommates at 4 a.m. so you can pack your bag). I've been using my Black Diamond Headlamp for over 6 years now and will swear by it until my dying day. It's got tons of setting that you can use to adjustment the strength, proximity, and strobing of your light. Not to mention, it's waterproof up to 3 feet of water and incredibly durable.
One of the most common pitfalls that travelers face is theft, and while people usually think this happens at the hands of clever pickpockets on the streets, it's just as likely to happen in the hostel you're staying at. And I don't say this to deter you from staying in a hostel (you definitely should!) but don't walk into your 10-person dorm unprepared. A simple, inexpensive luggage lock is all you need to keep your possessions safe. And while many hostels will offer you a padlock if you don't have one, odds are you'll have to pay for it. So, save yourself a reoccurring expense and some stress and grab a luggage lock before you go.
Whenever I'm packing for a big trip and I need to cut down on some things, the first items I eliminate are the ones that only serve on function (unless it's something like my glasses case; I'm obviously bringing that haha). So, when I found this Gonex Passport Holder, I felt like I'd won the lottery. Not only does this wallet hold my passport, it has enough space to hold all of my cards, cash, boarding passes, and maps. But perhaps the best features are that it's RFID blocking, and it has a pocket for my phone!
Probably one of the most troubling things about traveling through the Philippines was the prevalence of single-use plastics, particularly with water bottles since clean water is hard to come by. And even if it doesn't seem like it, bringing your own water bottle does make a difference, and you can usually rely on hostels to have clean water (either for free or a VERY small fee) that you can fill your bottle up at. The water bottle I use is my 32 oz. wide-mouth Nalgene. I love this water bottle because it's super tough and impact resistant, dishwasher safe, doesn't hang onto odors or leak, and is BPA free. Plus, the wide-mouth makes it easier to fill than the narrow-mouth bottle.
In all honesty, anyone who's a proponent of sustainability should have a reusable drinking straw, not just travelers. But for the eco-friendly traveler, this reusableStainless Steel Collapsible Straw by Doboli is perfect for people who are on the go and short on space. This straw set comes with a collapsible, FDA approved folding straw AND a cleaning brush that's all packed away into a durable, portable, pocket-sized carrying case. It even comes with a key ring so that you can easily attach it to your pack.
Keeping in line with this whole "multipurpose" theme, having a solid multitool is also essential for long trips. Because I tend to do a lot of outdoor activities, I often find myself in need of simple tools like pliers, wire cutters, screwdrivers – you get the idea. But the problem with reliable multitools is that they can often be expensive, but they don't have to be. This Pro-Master Multitool Knife comes with all kinds of handy features, and it only costs $14!
One of the most useful items that anybody, not just travelers, can have on them are a reliable set of sturdy carabiners. There are hundreds of ways to use carabiners and having a set on hand can be really helpful in a pinch. I typically use them to clip my water bottle and hat to my backpack, or to set up my hammock. I use this set of locking, weight-bearing carabiners from FavoFit, which come in a pack of 4 for just $14. Probably the best thing about these carabiners is their locking feature, which makes it much harder for someone to steal something off my pack when I'm walking around.
Another great, multipurpose item that I like to travel with is a set of slings. While slings are typically reserved for rappelling or climbing (and I do use them for those things), slings are also perfect for hanging a hammock and take up less space than traditional hammock straps. I also use slings to hang wet clothes off of either outside or in my hostel. I use this sling set from Boaton, which are weight-bearing, durable, and inexpensive.
Just like your dry bag, a waterproof phone case is an essential piece of gear if you want to keep possibly your most prized possession safe. Because we use our phone for literally everything – taking photos and videos, booking tickets, checking our flights, connecting with fellow travelers, etc. – you definitely don't want to lose it in some water-related accident. This universal waterproof phone case fits most smartphones, clear windows on the front and back that allow you to take photos and videos, and is waterproof up to 100 feet. Not to mention it also comes with a simple snack and lock system, wallet space for your cards, and a handy neck strap so that you can be hands-free!
Much like a padlock or luggage lock, an anti-theft money belt is another essential element of traveler security, and out of the many money belts that you can find on the market, one stands above the rest. Zero Grid's Travel Security Hidden Money Belt has a number of features that makes it perfect for any traveler. With its durable nylon webbing, wider pocket for storing bills, and a buckle with travel safety lock technology, you can explore with confidence knowing that your money is safe. And as a bonus, the belt is designed to be TSA approved!
I don't know about other people, but traveling is one of the best opportunities to knock out a bunch of books that you've been wanting to read. Between never ending flights, long stints in airports, and bus rides that crawl by, reading is one of the best ways to pass the time, keep your sanity, and even get more enjoyment from your trip. But if you're on a long trip, the last thing you want to do is haul a bunch of books around with you. And while book swaps at hostels are a thing, in my experience it's rare that I've found a book that's either in my native language or something I want to actually read. Your best solution: bring a Kindle with you! In addition to being cheaper than tablets, it's designed specifically for reading, and packs in some awesome features like glare-free display, tons of space, and an adjustable front light so you can read inside and outside. Plus, a single battery charge can last WEEKS, and not just a few hours.
Given that we handle all of our flight schedules, boarding passes, accommodation and photography through our smartphones and tablets, it's critical for travelers to have their devices charged at all times. And the more off the grid we get, the harder it is to make sure all our tech is charged up. So, a reliable battery like the Anker PowerCore 10000 is the perfect way to stay charged and connected while you're on the move.
Another essential item that you need for long-term travel is a universal travel adapter. But most retailers sell individual ones for the European Union, Australia, the UK, and the US. So, save yourself some money and space in your pack with this all-in-one travel adapter that comes with four USB ports, and is perfect for smartphones, tablets, laptops, and more!
26. Extra-long Charging Cable
When you're on the road, it's critical to stay connected to your devices. Whether it's taking photos of your trip, reading a book on your tablet, or tracking your finances on your laptop, we need to stay plugged in and charged up. But nobody tells you how crowded airports can be, or that rarely is an outlet near your bed in the hostel's dorm room. A simple trick? Get yourself an extra-long charging cable! Check out these 10-foot cables for iPhones and Androids!
Between long flights, noisy bus rides, and rowdy hostels, being able to block out noise for a few hours is key to keeping your sanity. A pair of noise-cancelling headphones is an essential piece of gear for all travelers, and the great thing about this pair of noise-cancelling headphones from BYGZB is that they include four speakers, high resolution mic, and strong bass. Not to mention you can get them for under $20!
I can't say enough how critical good music is for traveling, especially when you're in a large group of people and trying to keep the party going. If you've got a quality portable speaker with you, odds are you're going to be a crowd favorite wherever you go. When it comes to tunes, the JBL Clip 3 Portable Speaker checks all the boxes. Not only is it lightweight and has a convenient clipping design, but it's also waterproof – which is probably the most important feature on it (I've seen too many speakers meet an early end from falling in some water or getting doused in beer).
One of the most common problems that travelers face on the road is unreliable Wifi. More often than not, the free Wifi that your hostel advertises on Agoda or Hostelworld barely reaches to every part of the property, and even if it does, a simple web page can take 15 minutes or more to open. An easy fix? This N600 Dual Band Wifi booster that doesn't take up any space, supports PCs and Macs, and simply plugs into a laptop's USB port. This is the perfect, inexpensive way to stay connected while you're on the road.
Without fail when I go traveling, one thing I find myself doing constantly is playing card games with fellow travelers. It's a great way to pass the time and make new friends. But I can't tell you how many times I've lost an entire deck of my favorite playing cards because someone (me) spilled a beer all over them, or someone (me) left them in their daypack while spending a few hours in a kayak. So, do yourself a favor and get a set of Waterproof Playing Cards that can hold up on the road.