"How many carbon emissions am I contributing to the atmosphere by getting on this plane?"
I doubt many people ask themselves that question when they set off on a big trip. And truthfully, I don't think about it enough myself. But I'm starting to think more and more about how my travel methods impact the places I'm visiting, or even those that I'm just passing through. And I'm not the only one thinking this way. More and more people are becoming aware of the flygskam – otherwise known as the "flight shame" movement.
In a rush? Pin now and read later!
In 2018*, the U.S. Environmental Protection Agency (EPA) released a study that showed the transportation sector as the biggest contributor to greenhouse gas emissions (28%), and although road transport was the biggest culprit for said emissions (82%), it's specifically air travel that people are worried about – but why is that?
When it comes to analyzing our carbon emissions, we can't just look at the transportation methods that contribute the most, we have to focus on the emissions that can be attributed to an individual passenger.
For example, say you're traveling from London to Paris – here's what your carbon dioxide output would be based on three transportation options:
Plane – 122 kilograms
Car – 48 kilograms
Train – 15 kilograms
So even though the EPA cited cars as the top contributor of greenhouse gas emissions, you as an individual traveler contribute more of those emissions if you choose to fly rather than drive a car or hop on a train.
---
Want to learn more about carbon emissions? Check out this carbon footprint study from Wanderu which has more data on the actual emissions released in the atmosphere when traveling with different types of transportation.
---
Top Three Eco-Friendly Ways to Travel
Travel by Train
If you're planning a long trip of any kind, there's no question that a train is your most eco-friendly option. Now, if you're taking a trip through Europe or Asia, you shouldn't have any problems finding a train, but it's a different story in the U.S.
It saddens me to say that our railway system is in a sad, undeveloped state that doesn't show too many signs of improving. Regardless, we do have Amtrak, the National Railroad Passenger Corporation.
I had actually planned a trip to California earlier this year and the majority of my transportation was going to be via train (unfortunately, COVID hit and I had to cancel the whole trip – sad day, I was really excited about taking a train ride alongside the Pacific Ocean).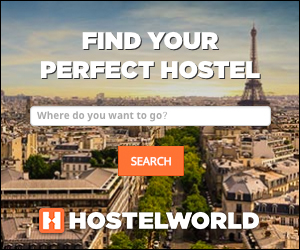 Travel by Bus
Say you can't take a train to your destination, then a public bus is your second-best option when it comes to eco-friendly transportation. If you're like me and live in the U.S., then you're probably aware that our railway system isn't just far behind compared to other countries, it's virtually nonexistent in some areas.
That being said, there are plenty of bus companies across the US that can get you just about wherever you need to go. Check out this handy resource that lets you compare bus routes and ticket prices across companies like Greyhound, Megabus, RedCoach, Jefferson Lines, Peter Pan, and FlixBus.
Travel by Car – and maybe Carpool
It might be a bit of a letdown to know that ordinary cars are the next best option for eco-friendly travel (they still release an absurd amount of carbo emissions, but it's still fewer than a plane). However, there's a silver living here. Hybrid, electric and biodiesel cars are getting more affordable, accessible and efficient every single year.
And if traveling by car is your only option, you can always try and make it a carpool – remember we're measuring carbon emissions per person, rather than just the vehicle those released by the vehicle.
Transportation Resources
There you have it, folks! Those are the three best eco-friendly methods of transportation. I hope you found that little bit of research helpful to you and any trip planning you have in the near future.
Something that might be a little more helpful is this list of resources I use to find various transportation methods wherever I'm traveling. These are all the apps I use whenever I'm needing to get from Point A to Point B and I don't have a car, bike, or destination that's walkable!
Lyft
Uber
Transit – for subway and bus times
Wanderu – book tickets for buses, trains and flights
Stroll – so random but this is the Guam-equivalent of Uber and I used it all the time while I was visiting
Grab Driver – like Uber or Lyft, but for countries in Asia
If you're interested in reading more about eco-friendly travel, this blog is the first installment of a series I'm doing on responsible tourism. Check back next week for my next post, or subscribe to the blog so that you can get alerts when I post new content – cheers!
*this is the most recent published data on the subject